Advanced SystemCare Pro by IObit
An all-in-one, simple-to-use program called Advanced SystemCare can clean, optimize, speed up, and safeguard your System and your privacy. The effective 1-click method enables you to eradicate spyware threats, clear up privacy traces, increase Internet performance, control startup items, and swiftly erase trash files, leftovers, and inactive shortcuts.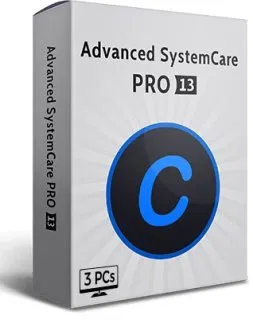 Several new features are included in this updated version to enhance PC security and performance. You may protect yourself from spam, phishing scams, and other email-borne risks by using Email Protection to identify and block harmful links and dubious senders in online emails. Software Updater enables you to quickly upgrade your programs to the most recent versions. Moreover, Context Menu Manager enables you to quickly and simply manage your context menu.
In addition to these new capabilities, practically every module in Advanced SystemCare has been improved. The significantly improved Junk File Clean and Privacy Sweep can now clear data for all user accounts and can remove junk files and privacy traces more fully and deeply. With the enhanced Performance Monitor, you can easily speed up your System by immediately terminating processes that use a lot of Memory, CPU, or disk space as well as CPU/GPU/Mainboard temperature and fan speed. Also, the vastly upgraded Startup Manager and Turbo Boost can automatically prevent the needless starting programs, services, and stuff from further accelerating your System. Moreover, Advanced SystemCare improves FaceID, Real-Time Protector, Privacy Shield, Browser Anti-Tracking, Surfing Protection & Ads-Removal, and Homepage Adviser. With these enhanced capabilities, you can better defend your Computer and privacy against dangers like invasive adverts, illegal access to your homepage and search engine, the theft of your digital fingerprint, cryptocurrency mining assaults, online threats, and more. To finish cleaning and optimizing your Computer, Advanced SystemCare additionally rebuilds and enhances over ten practical utilities, including Win Repair, Internet Booster, Smart RAM, Big File Finder, Disk Cleaner, File Shredder, Undelete, and DNS Protector.
Important characteristics of Advanced SystemCare Pro:
Computer optimization and cleaning are essential.
Premium PC optimization and cleaning.
To avoid system crashes, use a deep registry cleanup.
To improve Computer performance, defrag hard drive data.
Automatic RAM cleanup to end unnecessary processes and apps.
PC auto maintenance as planned.
Real-time monitoring of the system's state.
Update important applications with only one click.
a 200% faster Computer startup.
Internet Booster increases Internet speed by up to 300%.
primary anti-spyware protection for computers.
Complete PC protection to find and get rid of the majority of ingrained illnesses
Use FaceID to automatically capture intruders.
Web emails should be protected from harmful links and shady senders.
With automatically accurate tracking information, premium surfing is protected.
To maintain the privacy of online behavior, mask digital fingerprints.
Keep your data away from apps you don't trust.
Real-time proactive detection and blocking of security holes
Windows 7, Windows 8, Windows 8.1, and Windows 10 are required as operating systems.
Free installation and activation instructions for Advanced SystemCare Pro:
Step 1: Download the file Advanced SystemCare Pro 297 and install it on your computer.
Step 2: After the installation is complete, open program Advanced SystemCare and activate license key or license key or license key or license key or license key
Step 3: Finally, enjoy and experience it!
License Keys:
050FC-E9497-2FD4A-7D54N
B1CE1-AE527-8BAF4-88D4N
AC01A-7F89F-86E57-77E4M
6CDEC-2EA3E-55838-D6044
3C19F-928B2-13811-6F84N